If you've found your way to this list of inappropriate birthday cards, we can assume two things:
You probably know someone with a birthday coming up.
You probably have an outstanding sense of humor.
Since almost everything we create here at Explicit Contents is inappropriate: you're in the right place.
We've collected 43 of the funniest, most inappropriate birthday cards from independent card brands across the internet. We've got a little something for everyone, so let's dive in:
In this article (click to jump):
23 Funny Inappropriate Birthday Cards
If you're just going for in-your-face offensive, this isn't the section for you. We've included some offensive options later in this article. 
However, if you're hoping to strike a balance between inappropriate and funny, these are some of the funniest options currently available.
All I Ever Wanted — If this card describes a birthday boy or girl in your life, it might as well be Cinderella's glass slipper. Perfect for the friend you've always wanted who's just as terrible as you are.
Happy Birthday Senior Citizen available at The Paper Drawer - …what were we talking about again?

Blow Out The Candles available at Lady of the Lake - "And DON'T COME BACK until you've burned off that sugar high!"
Granny Panties available at Domaci Home - Some things are just inevitable — every year is one year closer to granny panties.
No Birthday Hangover available at QUINN - Give them this card, then keep bringing them water all night to make your wish come true.
More Candles, Less F*cks available at Bough and Antler - Wisdom often comes with age. Or, at the very least, giving fewer f**ks..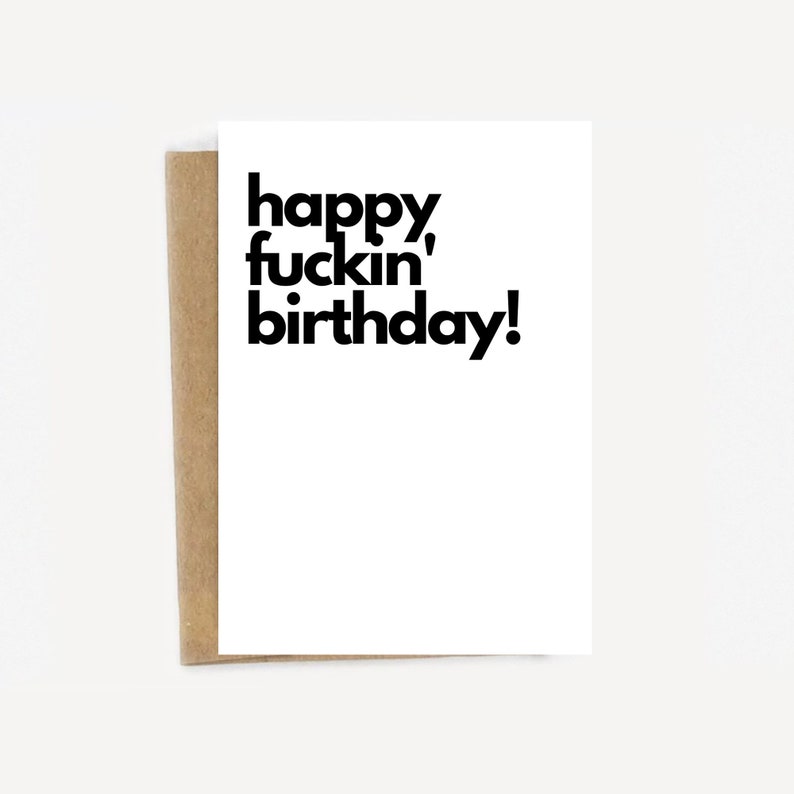 Happy F**kin' Birthday! — Straight to the point. Sometimes nothing works quite as well as a big, bold f-bomb.
Happy Birthday Sl*tbag available at Walnut and Wool - For that friend you love to give a hard time (along with all of her suitors!).
Happy Birthday, Good Looking! available at Burro Goods - When they're aging so beautifully that it's time for a murderous intervention.
Attention Wh*re available at Fold Goods - For the friend who loves being in the spotlight, and finally has a good reason to be now that it's their special day!
You Look Incredible available at Catalyst & Co - Do you have a loved one who isn't a fan of birthdays, but **is** a fan of Ted Lasso? If that's the case, we present you with: the perfect card.
Great Job Escaping available at Poppy and Pomelo - If only we could embed GIFs into a greeting card…
Not Often Card - If you're a friend who rarely expresses emotions, this card from Collected Joy is a perfect present for your friends. There's no need for too much explanation here; the card basically says it all!
Quickie available at A Kind Heart - Finally! The age where we can all agree that a good nap is just as important as the other quickie. Happy birthday!
Sentence Enhancers available at Happy DSM - We don't call it swearing— it's adding a bit of "spice". An extra special day calls for an extra special card!
In Dog Years available at Steeling Home - Getting older isn't something that everyone's excited about, but let's look on the bright side! At least they're not dead.
A First - If giving cards wasn't your thing in the past but you want to try the unusual, Woods Grove has the perfect card for you! Some might say it's a bit inappropriate, but it's the effort that counts.
Want Some Cake? — If your friend has a dark sense of humor, you won't find a better birthday card than this one. The inside features the adorable, balloon-obsessed t-rex from the cover smashed to death by the falling birthday cake above.
You Never Age from Outer Layer - This card may sound a little harsh to some, but it's actually a compliment—the perfect card to give to someone flawless despite their many birthdays.
A Gift — They don't have to be a cat lover for this card to be perfect, but if they're a cat lover, this is the perfect inappropriate card for them.
Congratulations on your Birthday from Wild Cat Gifts - The perfect birthday card for your friend who's too much of a people-pleaser. Sometimes you just gotta teach them that other people's opinions (especially the unsolicited ones) about their life don't matter.
Funky Family — Is this card for a relative's birthday, and are you from a semi (or totally) dysfunctional family? If so, and assuming this card is for one of your few well-adjusted family members: this is the card for you. 
Crabby Friends — This may not be the best card to give in a large social setting with other friends around.
The cover's precious, but the inside makes it clear that you like the friend you're gifting this birthday card to better than any of your other friends, which might create some tension if mutual friends are present when it's opened 😅
11 Perfectly Inappropriate Birthday Cards for Him
From butts to balls, lilies to willies — we've got the perfect inappropriate birthday card for any man in your life.
Mr. Rhinasseros — Is the man in your life rockin' a cute tush? Wish him a happy birthday while acknowledging one of his greatest assets.
Cheers — Are you searching for an inappropriate card for a guy who many would describe as beautiful, charming, and/or handsome? And does he appreciate a good f-bomb here and there? Wish him another year of interrupted prosperity in his beauty bubble.
Settle For This available at Palm Harbor Boutique - Beggars can't be choosers!
Birthday What?! available at Cards O' Glee - A nice way to let him in on your little secret: he's getting lucky tonight ;)
Selfish available at Taryn x Philip - Why can't his birthday just be about YOU, y'know?
Snap a Bra available at Owl-R-Junk Boutique - They call them "the glory days" for a reason.
Happy Birthday from Your B***hes & Hoes — Is he a dog lover and a gardener? If you said yes, your search for the perfect birthday card ends here.
Editor's Note: This is the first of several cards from AlwaysFits.com in this article. They boast an incredible curation of hilarious and inappropriate greeting cards, but it doesn't stop there.
If you're someone with an irreverent and/or profane sense of humor, we can't recommend checking out their website or following them on Instagram strongly enough!
Fountain of Youth available at Pretty Pussycat - Youth works in mysterious ways. One minute it's there; the next, it's like finding a noodle in a haystack.
If I Only Get One - This hilarious greeting card from The Flying Owl is perfect for occasions like birthdays, anniversaries, and Valentine's. A great way to fill your man with flattery on a special day. Let him know how lucky you feel for getting a HUGE part of his life.
Happy Birthday to My Favorite Mansplainer — Does the birthday boy in your life have strong opinions and a tendency to over-explain even the simplest of concepts?
There's no better card for the mansplainer in your life.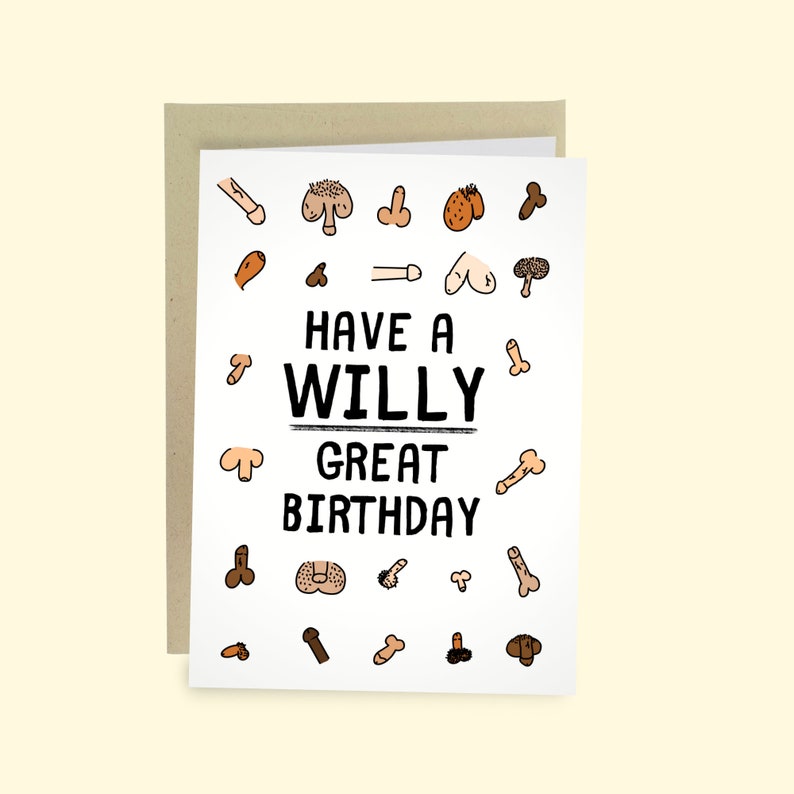 Have a Willy Great Birthday — Does he have an affinity for willies that everyone in his life kind of raises an eyebrow at, but nobody ever addresses it directly? The time is now.
I Love Your Penis — Keeping with the penis theme, sometimes you just want to get straight to the point, y'know? This card is blank inside, making it a great option for birthdays or any other occasion.
P.S. Perpetual Kid also has an outstanding selection of greeting cards that are worth a look, particularly this absolute gem of a collection: Cards with Swearing (we have a tendency to notice these things here at Explicit Contents 😬).
13 Terribly Inappropriate Birthday Cards for Her
Why only five options for him, but nine for her? Women purchase 80% of greeting cards each year, so it's safe to assume they're a bit more discerning than men when it comes to receiving the perfect card.
We've rounded up the perfect inappropriate cards for any birthday gal in your life.
Ms. Rhinasseros — The female counterpart of Mr. Rhinasseros above. You probably shouldn't give this card to a coworker in this day & age, but hey — you do you.
Good Vibes On Your Birthday from Lady Fingers Letterpress - A cheeky card to wish her a buzzing birthday full of pleasure!
Blow Me (Candles) from Rock Paper Scissors - Not everyone could guess what's going on in this card unless you have an explicitly dirty sense of humor. No worries, though. Just make sure the recipient gets it so she can give you....r candles a good blow.
Burn His Sh*t — What better birthday gift than offering to help burn all of an ex's belongings? This and MANY other great cards can be found at El Sage Designs. 
Anniversary of Your Birth — Although this card is perfect for men and women alike, its a hell of a lot more relatable for most women. It's particularly perfect for any moms purchasing cards for their daughter, or vice-versa.
You Old S**t — Every relationship has its own love language. Some are a bit more... colorful than others. If that speaks to you, then this card is probably perfect for the recipient you have in mind.
Happy Birthday Plant Whore — Fairly similar to the card linked above, but plant-themed! Slather some aloe vera onto that inappropriate love language.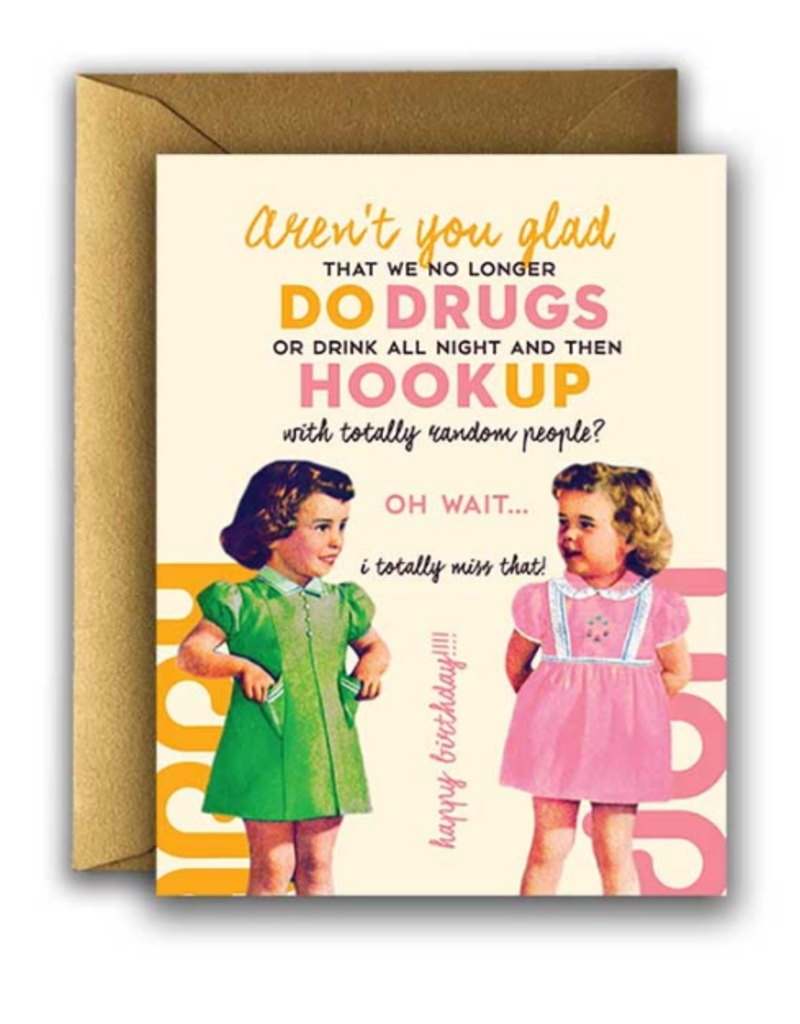 Aren't You Glad We Don't... — We often get nostalgic on birthdays. Another year in the books, another year wiser, and — quite possibly — another year of missing the things we used to love most.
Birthday B***h — Hark! We're fortunate enough to be in the presence of the rare and elusive "Birthday B***h!" She must be celebrated!
Birthday Wishes for Her — From one girlfriend to another. Or one gay friend to a girlfriend. Or one girlfriend to a gay friend? Or one gay friend to another gay friend? I've lost track – just buy this card and don't forget to share.
Shiny Disco Balls — Pair this card with a small container of silver glitter for an added laugh (if she has a male partner, he may not find the joke quite as funny).
Better to Be a Year Older Than a Month Late — Truer words have never been written on a greeting card. This simple, text-only card is blank on the inside, but I'm not sure it needed to say anything else.
Tit's Your Birthday — Similar to the "willy" card a little bit higher up in this article, but objectively better for obvious reasons. Could also work for gifting to a male, also for obvious reasons.
18 Cards that Are as Offensive as They Are Inappropriate
Maybe inappropriate isn't enough. Maybe you're the type of person who wants cards so offensive that they're categorized as wildly inappropriate birthday cards.
We've got you covered.
Party Pooper — This one's admittedly pretty dark, and certainly falls into "wildly inappropriate" for most card recipients.
Fortunately for us, there are plenty of people in the world who also find it freaking hilarious!
Too Many Birthdays available at Becket Hitch - They should know that we can only count so high.
Too Old For This available at Tool Shed Toys - We all need that friend who tells us how it is. With this card: you can be that friend.
Hot for a Senior Citizen from L.O.F.T - What's a unique way to tell someone they're getting old? Give them this hilarious card, of course! It's not everyone's cup of tea, but if the recipient is a fan of dark humor and profanity, there's no better card for them than this.
Hangman Card - Is there a man in your life that's fond of guessing games? If you answered yes, this surprise card from Emerson Sloan is perfect for him. The words are pretty easy to guess, but we're not so sure if he'll be happy with his accomplishment.
Hopefully Older available at Phoebe and Peacock - We will all die someday. Just hopefully not within the next 365 of them.

Damn Card available at Uncle Bekah's Inappropriate Trucker Hats - Quite possibly the least sentimental card ever, but if it's perfect for the person you have in mind, you probably knew it the moment you saw it.
Muthafukka Birthday available at Paper on Pine - We'd advise not having the recipient at gunpoint when you present them with this card, but to each their own!
Birthday Drag available at One Sixty One - RuPaul fan? Then you know this is the right card, honey.
Desperately Old available at Live Trendy or Die - Just the uplifting words they're seeking on their birthday! At least the card's beautiful? 😅
Look Who's Forty available at Bella & Coop - Give it to 'em straight.

40 may be the new 30, but we doubt they feel that way when celebrating the big 4-0!
Without Glasses available at Hello Gorgeous - DO ANY OF YOUR OLDER RELATIVES TYPE IN ALL CAPS BECAUSE IT'S EASIER FOR THEM TO READ? GET THEM THIS CARD AS AN ACT OF SWEET, SWEET REVENGE.
Granny Panties available at Half Mile Handmade - Some milestones are worth celebrating. And then there are milestones like these…
F**k Your Stupid Birthday — Sometimes you just need to let it out. Here's an option that's fantastic for giving to a friend or loved one in jest, but also perfect for anyone who has a little something to get off of their chest with the recipient.
Cher a Little More — An elephant version of Cher, wearing the same outfit as the original music video, catching the recipient off-guard with the punchline, "I would. You look awful." On the inside. What's not to love?
Siri Define Elderly — A letterpress card that cuts directly to the point. Deeply to the point.
Too Old for TikTok — Another letterpress card, from the same manufacturer as above, that wastes no time and gets directly to offending your recipient.
Birthday Fire Hazard — It's not the most offensive (by a long shot), but it seemed like a good "book end" for this list.
When there are so many candles that the cake looks more like a candlelight vigil... it's time to switch to candles molded into the shape of numbers.
15 Inappropriate Things to Write Inside a Birthday Card
Looking for some inside-the-card inspiration?
Since you're probably only purchasing a handful of cards (at most), feel free to borrow lines from the other cards on the list!
Congratulations! You went another year without dying!
I hope your birthday's as fine as your ass.
Have a willy great birthday! (don't forget to hand-draw a willy)
Happy birthday from your b***hes and hoes.
Cheers to another year of being handsome AF.
Wishing you shiny disco balls for your birthday.
Tit's your birthday! (don't forget to hand-draw some boobs)
Not quite cutting it? Here's some more inspiration:
How are you still alive?
Guess Satan's going to have to wait another year!
God gave you another year for a reason, and that reason is to punish everyone around you.
You don't pay me enough for birthday sex.
Enjoy the one day each year when it's okay for you to make everything about yourself.
Our relationship is worth less to me than this card costs.
The baby's not yours.
I hate you.
Want to cut even deeper? Nothing's more inappropriate than our Anonymous F**k You card!
Thanks for Dropping By!
We hope you enjoyed our list of wildly inappropriate birthday cards. There were some funny ones, some sad ones, some for him, and some for her. The one thing we can all agree on is that we're probably all terrible people for seeking them in the first place.
Did you find a great inappropriate card that's not on our list? Drop it in the comments below and we'll add it next time we update this post if it makes the cut!
Did you purchase one of the cards from our list? Please come back and let us know which one, and how the person reacted! We love hearing from our followers, and we may even feature your story in our monthly newsletter.
Love you!