There's an abundance of thank you cards available online and in stores, but it takes a lot of work to find truly funny thank you cards.
FRET NOT, DEAR READER!
We've scoured the internet top-to-bottom for funny thank you cards for all occasions and recipients: friends, mom, colleagues/coworkers — you name it. We've got clever thank you cards, and even cards that are conveniently available with fast shipping from Amazon.
As a neat bonus, all cards within this article are from independent greeting card lines, therefore your purchase will support independent artists and small businesses. If for some reason that upsets you (why?!), this probably isn't the article for you 😬 Independent lines tend to create funnier cards than the big-box, mainstream brands.
Without further ado, here are the most hilarious and entertaining thank you cards we could find on the internet:
12 Universally Funny Thank You Cards for All Recipients
We wanted to lead out with the funniest designs that would make for a perfect thank you card for almost anyone (depending on the context of your relationship).
Here's the absolute best-of-breed, in our humble opinion: 
A Crappy Card — An adorable card featuring red pandas literally giving a s**t. This is one of Explicit Contents' best-selling cards, and it never fails to get a great reaction. Make sure to check out the thoughtful artwork on the inside and back as well.
A Whole New World — If you prefer a thank you card without profanity, this option features beautiful artwork and, yet again (as is always the case for Explicit Contents), thoughtful artwork on the back of the card as well.
Putting Up With Me available at Pug On A Pontoon - For those who know how to love us at our best **AND** our worst.
F*cking Thanks available at Darling x Dashing Boutique - Sometimes a simple "thank you" doesn't quite cut it!
Thank You 4 Times available at HŌMbädi - You overachiever, you.
Good Fortune from Perch - This card is perfect if you want to show your appreciation for someone's existence without profanity—just a little heartwarming message for a friend, significant other, or a family member.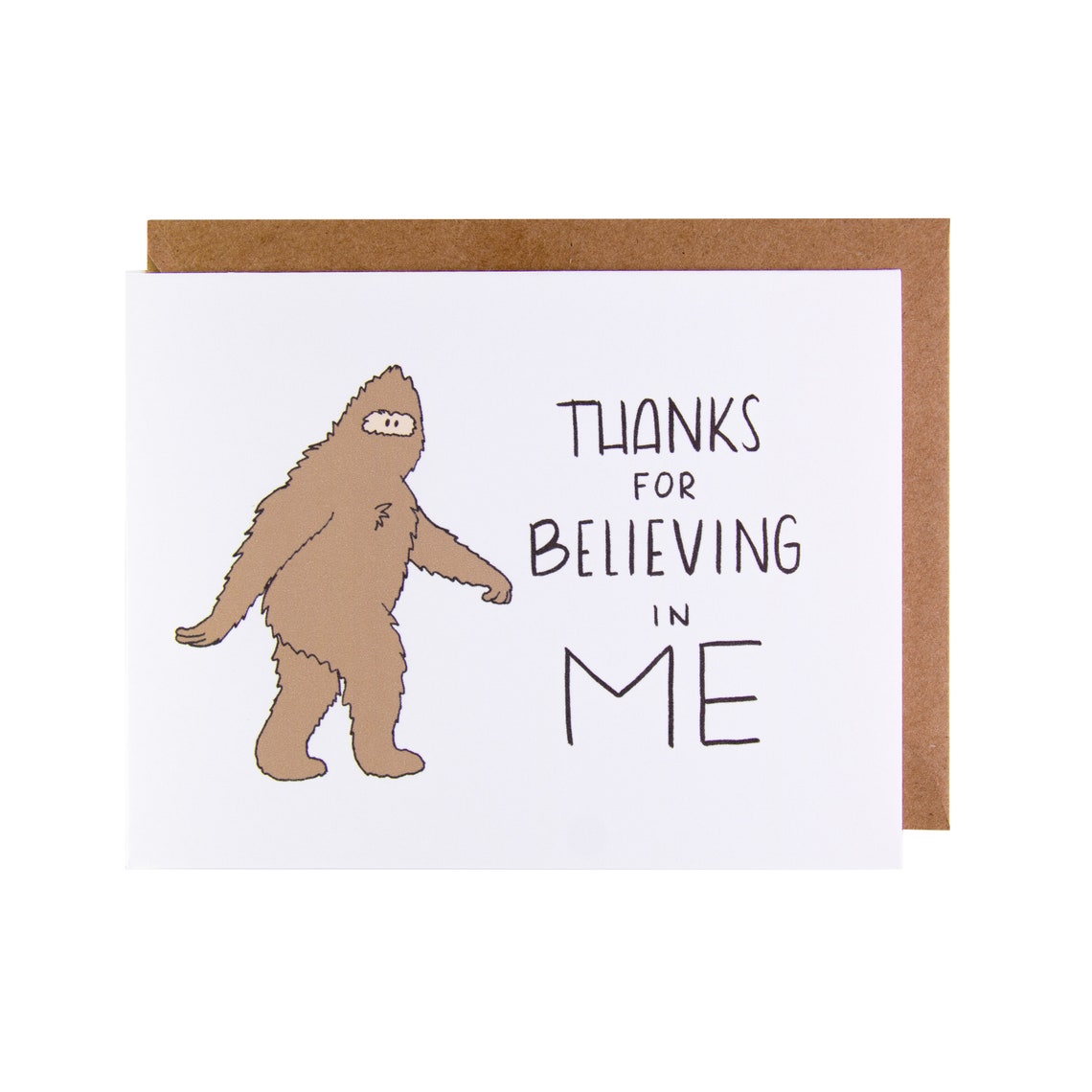 Thanks for Believing in Me — Sometimes a general "thank you" isn't enough — it's nice for the card to have a message that's a bit more specific to the situation. If this little guy's a good fit for your needs, it's a rare balance between wholesomeness and humor.
No Bad Decisions from Awesome Brooklyn - Give this card to that person whose job is constantly second-guessing your life decisions. They may sound naggy at times, but you know you wouldn't have made it without them because, let's be honest, your choices are mostly crappy.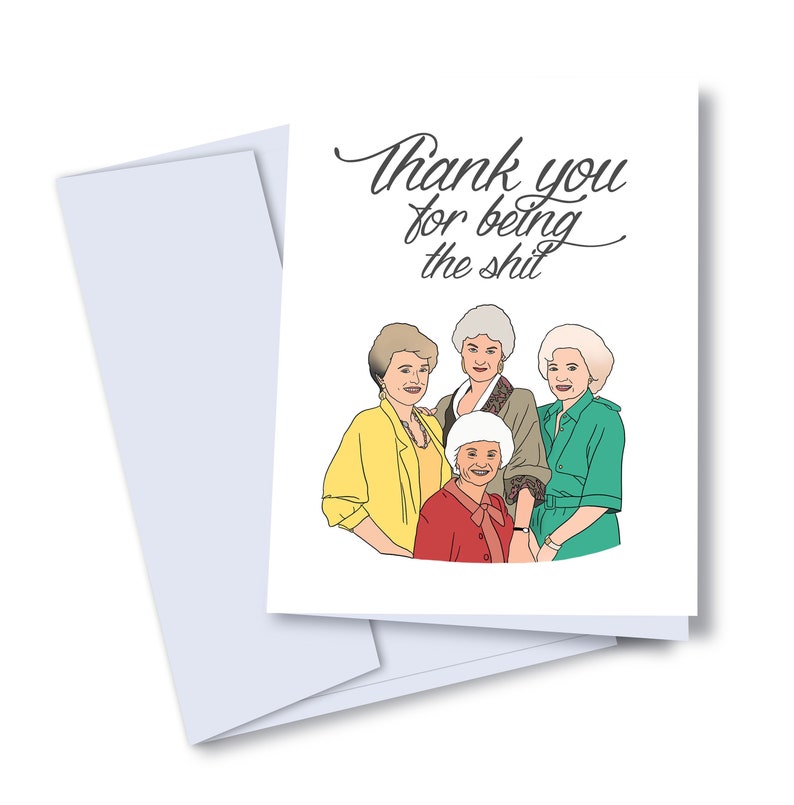 Golden Girls — If you didn't connect the dots immediately upon reading it, this one's meant to be read to the melody of the Golden Girls' theme song: "Thank You for Being a Friiiiiend."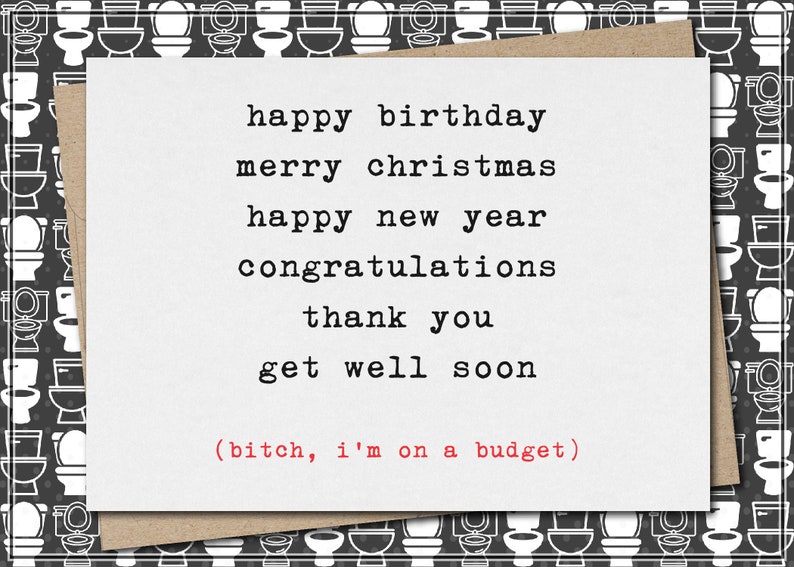 I'm on a Budget — You could stock up on these and give them for almost any occasion, but particularly when in the market for a funny thank you card, this simple text-only card (which is also blank on the inside) quite literally checks all the boxes.
Honorable Mentions: 6 Hilarious Thank You Cards for Mom 
Thanks, Mom — Have a worrywart for a mom, or a mother who's obsessed with true crime? Then you won't find a better thank you card than this one!
Basically My Mom available at Four Sisters Boutique - Every mother figure in your life deserves a Mother's Day card too! After all, just like you, motherly love is from the heart and not the hoo-ha.
Not Like Other Moms from DECO Raleigh - Do you want to thank your mom for being better than everyone else's? Then this thank you card is the best for you! Thank her for raising an equally cool individual: you.
Pushy Mom available at Good Aura - Moms have been pushing us since day one (literally). Good thing they just want the best for us, and don't hold the almost ruined hoo-ha against us.
The Spice of Life - Everybody knows that moms' cooking is the best, and they deserve credit for that. Thank your mom for making life more flavorful with this card from Atomic Books.
You're Awful from Crafty Wonderland — It initially comes across as kind of the opposite of a "thank you" card, but that's what makes it clever! After your recipient is shocked (and possibly offended) upon opening the card, it unfolds to reveal the complete message, "You are awesome & wonderful."

Awww… a little flattery, and you're back in their good graces!
Adored By Offspring from Ephemera - A special card for a special woman. The perfect one if you want a unique way to say thanks to the woman who raised you.
Tampon Thanks — A little gruesome, but given how hysterically my wife laughed upon seeing this card for the first time, I couldn't stop myself from including it in this list of funny cards.
8 Clever Funny Thank You Cards
Do none of those foot the bill, or are you looking for something a bit more specific? Here are some wittier options that we hope tickle your humor.
Bonus: This particular category features a number of funny animal thank you cards, too, in case that piques your interest 😉
Disappointment Surprise — One of Explicit Contents most popular "unexpected punchline" cards, which takes a hard left vs. what you expect when reading the card's cover:
Outside: If I had a nickel for every time you failed me...
Inside: I'd be broke!
Once again, don't forget to check out the heartwarming artwork on the back of the card that brings everything full-circle.
Here You F**kin' Go from "Two Words One Finger" — American etiquette expert (which some may argue is an oxymoron) Emily Post recommended sending a "thank you" note to express gratitude for every small act of kindness.

Whether she'd object to this card's sentiment at the bottom, though, the world will never know!
T.Hanks — It's clever, it's funny, and it prominently features the American treasure Tom Hanks. What more could you ask for?
Brief Thanks — This adorable little guy drives "thanks" home briefly. A clever, funny design that's a bit cleaner than, you know, Red Pandas handing each other poop.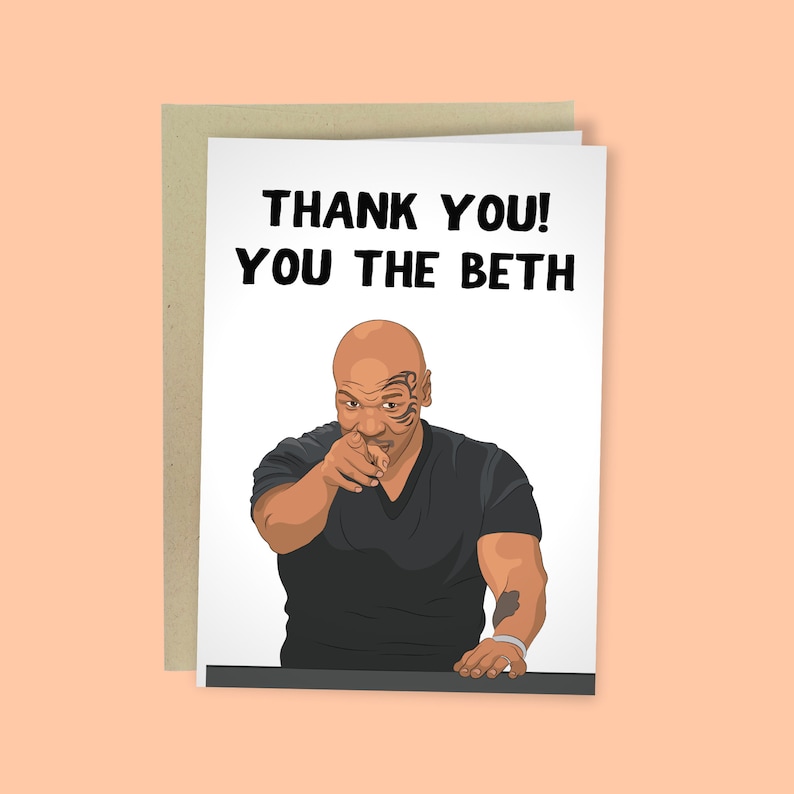 You the Beth — I wouldn't give this card to Mike Tyson himself, but assuming he's not in the vicinity when it's gifted, it should put a smile on everyone's face.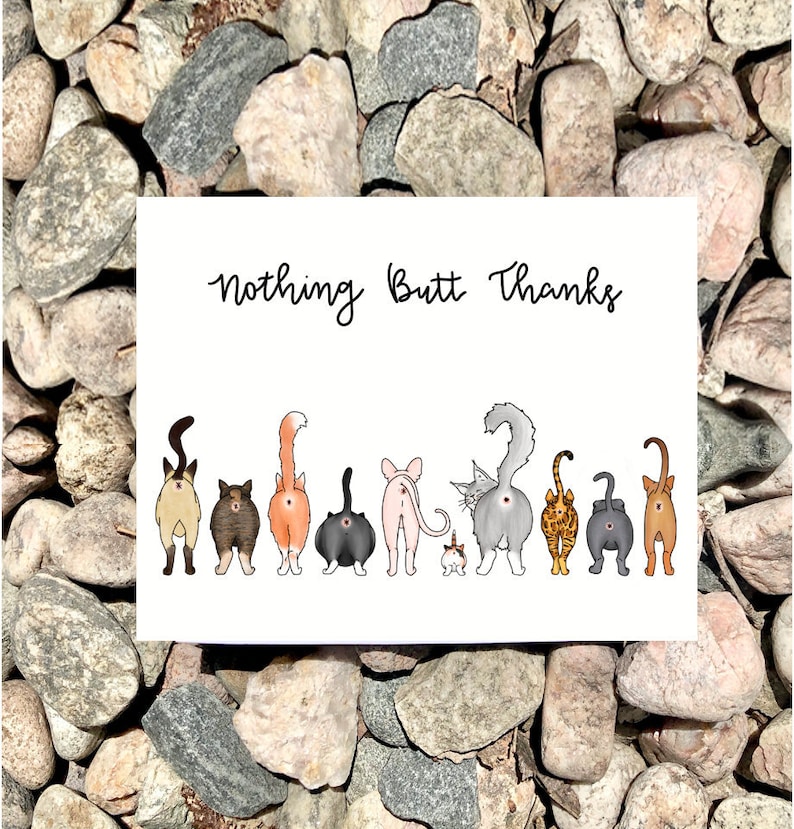 Nothing Butt Thanks (Cats) — It never hurts to throw in a cat card, and this one's particularly cute and clever. Perfect for the feline fan you want to say thanks to.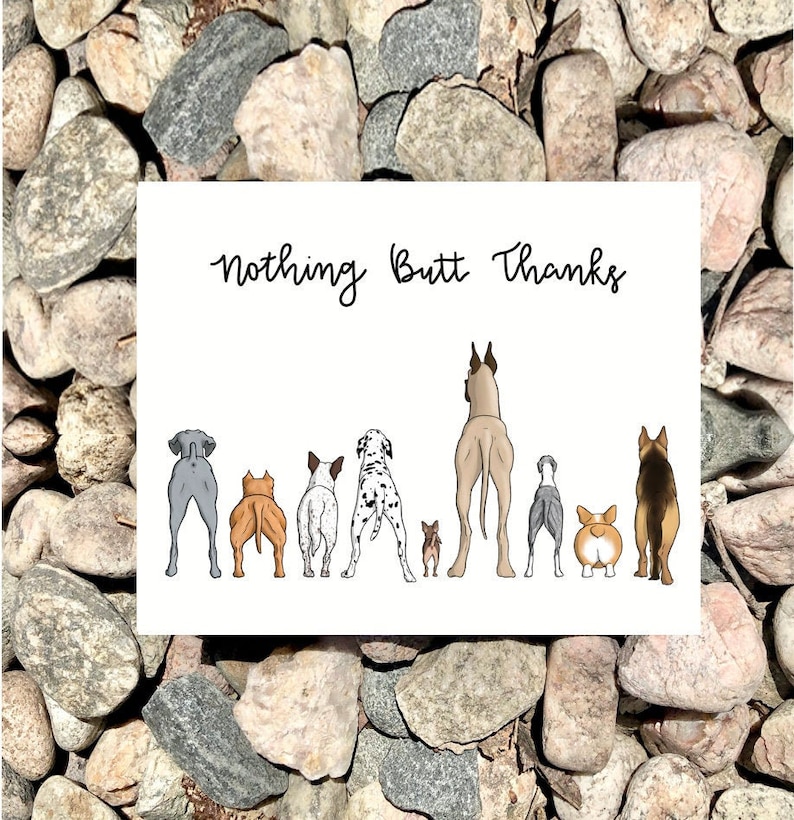 Nothing Butt Thanks (Dogs) — Did you enjoy the "butt" punchline, but this card is for a dog lover instead of a cat lover? Luckily the artist covered both bases for exactly that occasion.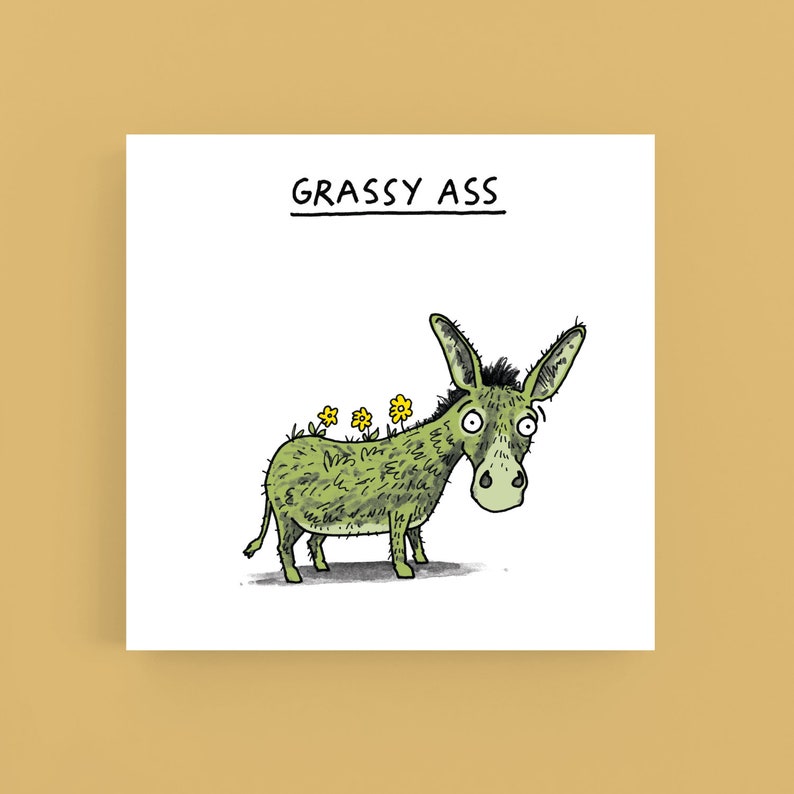 Gracias — For our "culturally diverse" readers who need to say thanks to someone who speaks even just a little Spanish (even if they speak it poorly!).
10 Funny Thank You Cards for Friends
If you need to say thanks to a friend, rather than a coworker/colleague or someone else you do business with, we assume there's a bit more room for creative self-expression.
These funny thank you cards walk the "edgy" line a bit more closely than the other sections in this article.
The S#!t — It's called "The S#!t" because the inside features a meerkat pointing at the reader and winking, accompanied by the text: "Thanks for being the s#!t." The card itself is uncensored, of course!
Bad Words — If you're particularly fond of profanity, and so is the friend you're giving this thank you card to, you probably aren't going to find a more perfect option than this one. The inside reads, "I appreciate you as much as I appreciate bad words (that's a lot)."
Bad Influence Friend — We all have one, but we're rarely thanking them for the trouble they get us into. When the occasion calls for gratitude rather than bail money (or if they paid your bail for you!), this card is here to honor your unique bond.
Support Bra available at Olive it Boutique - 🎶 "YOU RAISE ME UUUUUP, SO I CAN WALK ON MOUN-TAINS" 🎶

Who knew Josh Groban loved bras so much?
You're cool. Thanks! from The Pretty Good Co - When most people find you hard to be with, and there's one friend that still sticks with you despite that — there's no other card for them than this one. A great way to say thanks for hanging in there when the whole world turns its back.
You're the Tits — Regardless of what you're thanking them for and whether the recipient is a man or a woman — you can never go wrong with boobs.
I'd Be So F**ked — Is your recipient someone that you're so grateful for that you can't imagine living without them? Let them know with this handmade letterpress card.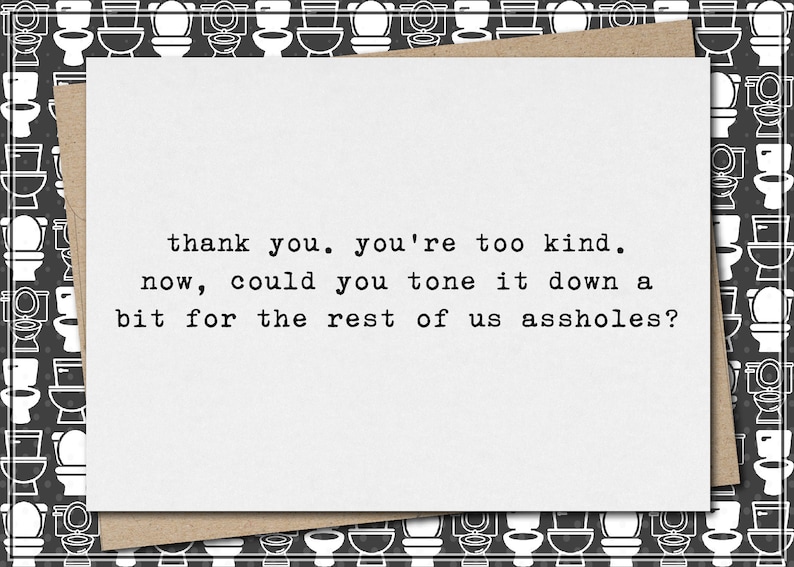 Tone It Down — Sometimes our friends are so good to us they make us look bad. File a formal request for them to slow down while saying "thanks" with this funny, minimalist card.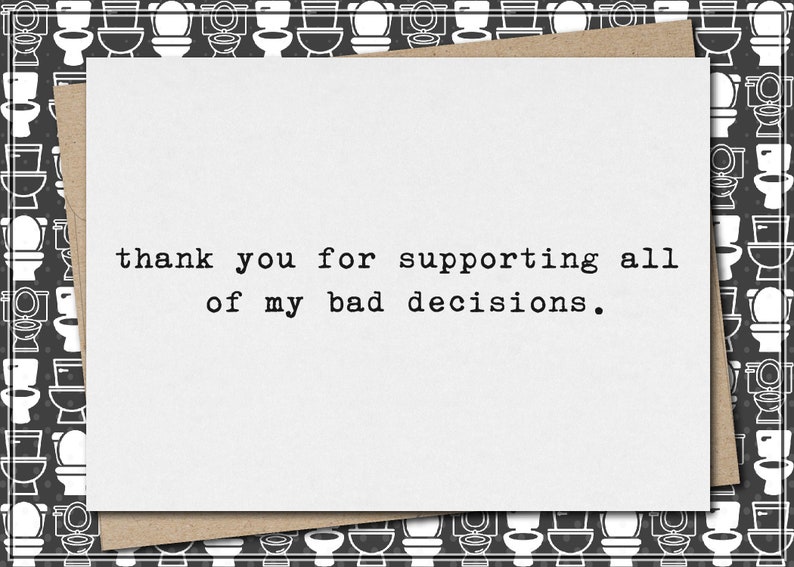 Thanks for Supporting My Bad Decisions — Not too dissimilar from the "bad influence friend" card a few options above, but a bit simpler for those of you who prefer more of a minimalist look, which is Potty Mouth Press's specialty.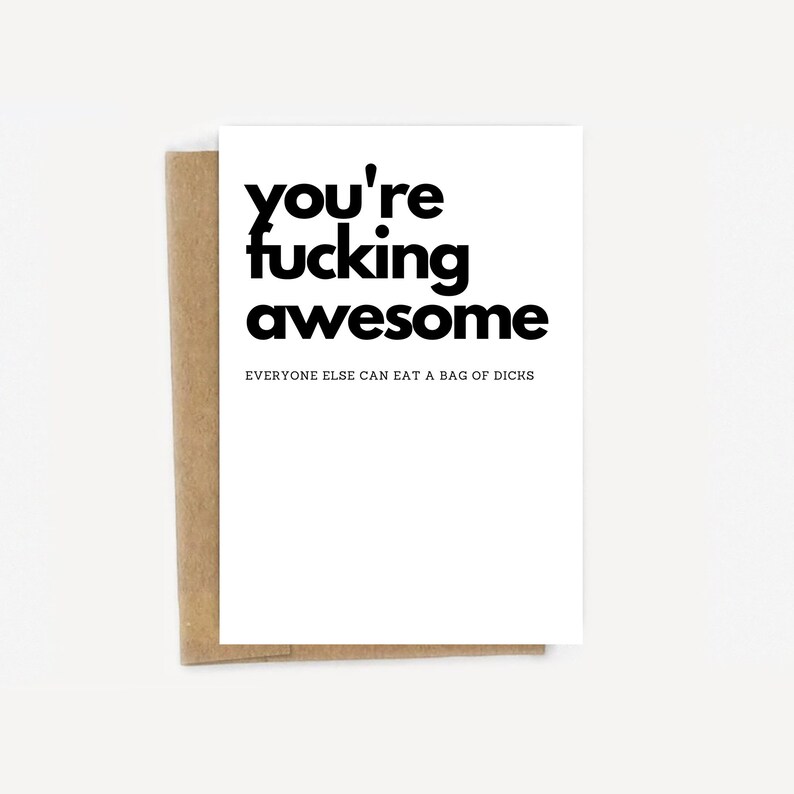 You're F**king Awesome — As Davy Crockett famously said, "You may all go to hell and I will eat a bag of d**ks." 
Wait... that doesn't sound right.
5 Funny Thank You Cards for Business
Funny business thank you cards are particularly tough to find. You don't see many cards that balance funny and business appropriate.
We know that many business owners are comfortable with profanity in this context (there are plenty of options throughout this article if that's you!), but we tried to keep these options edgy yet profanity-free in case you wanted something that was funny, but also relatively clean.
A Squashed Tree Folded in Half — It's cute, it's simple, it's accurate, it's a little clever, and it's safe. Perfect for the profanity-averse but good-humored professional.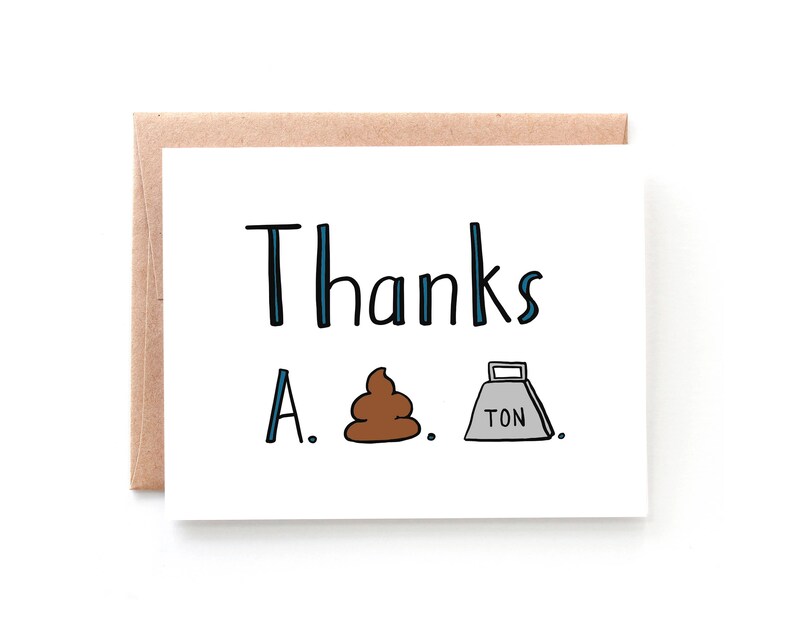 Thanks a S**t Ton — It cusses without cussing — exploit the loophole!
Lucky Charms — For a simple, sweet, business-appropriate (but also good-humored) thank you.
Words Aren't Enough — Want to express a bit more personality while keeping it funny & light, but most importantly, avoiding cussing? Here you go, tiny dancer.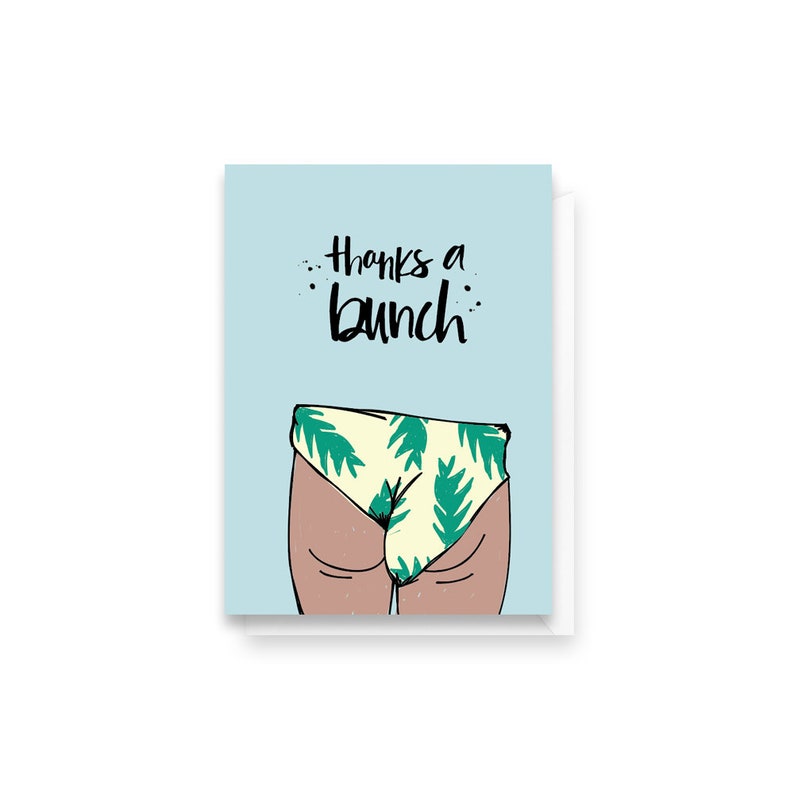 Thanks a Bunch — Definitely the edgiest of our featured funny business cards, but profanity free! It won't be right for many of you, but if your business can get away with it, this design was too funny to omit from this list!
5 Funny Thank You Cards for Colleagues & Coworkers
Although you interface with colleagues/coworkers in a professional setting just like the business cards above, most of us feel comfortable walking closer to the "edgy" line with coworkers.
We're including a couple of somewhat inappropriate options here to maximize your mileage when giving a funny thank you card to a coworker.
Fancy Manners — We're leading out with a non-profane option this time, which really isn't our style. But life is all about balance, which this cute card delivers in spades!
Thanks for Being My Favorite Coworker — Some coworkers keep us going... just not quite as much as the coffee machine does.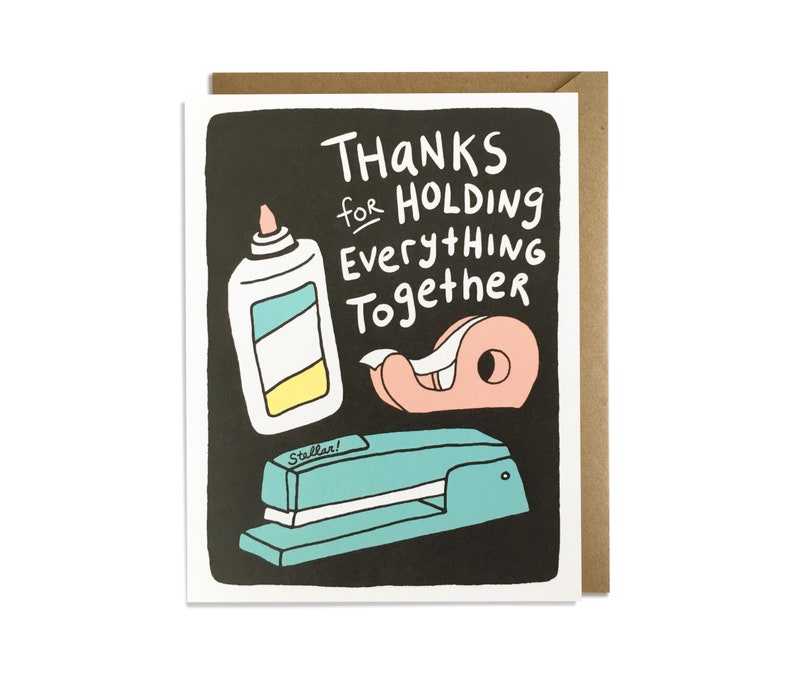 Thanks for Holding Everything Together — Perfect for a boss or coworker who consistently helps you and your colleagues through challenging projects.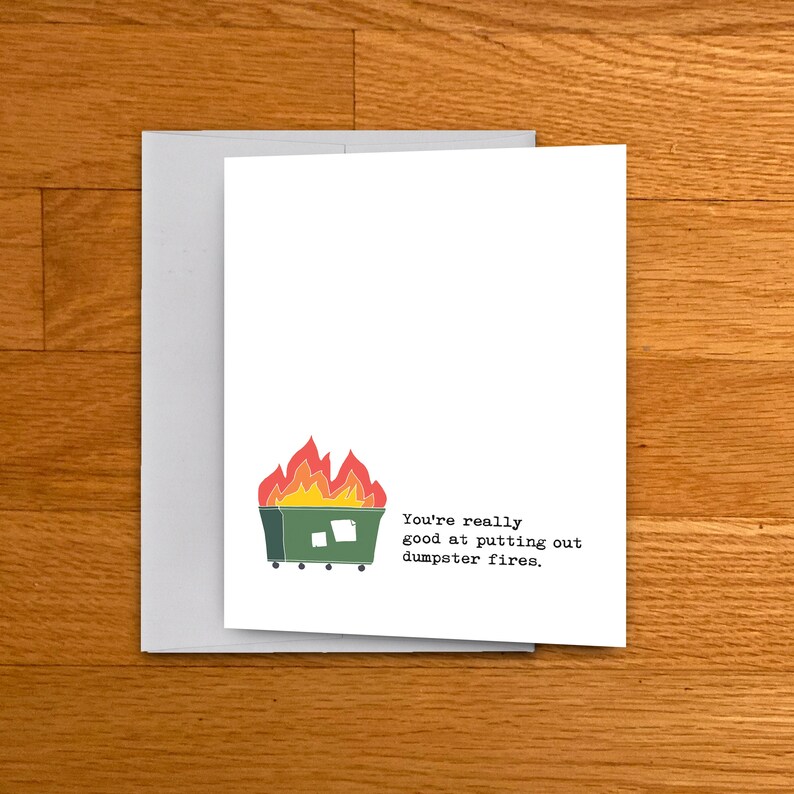 Dumpster Fires — Some workplaces aren't quite as functional as others. In those settings, a good coworker that you can rely on makes a big difference. Honor their special talent for putting out dumpster fires with this simple card.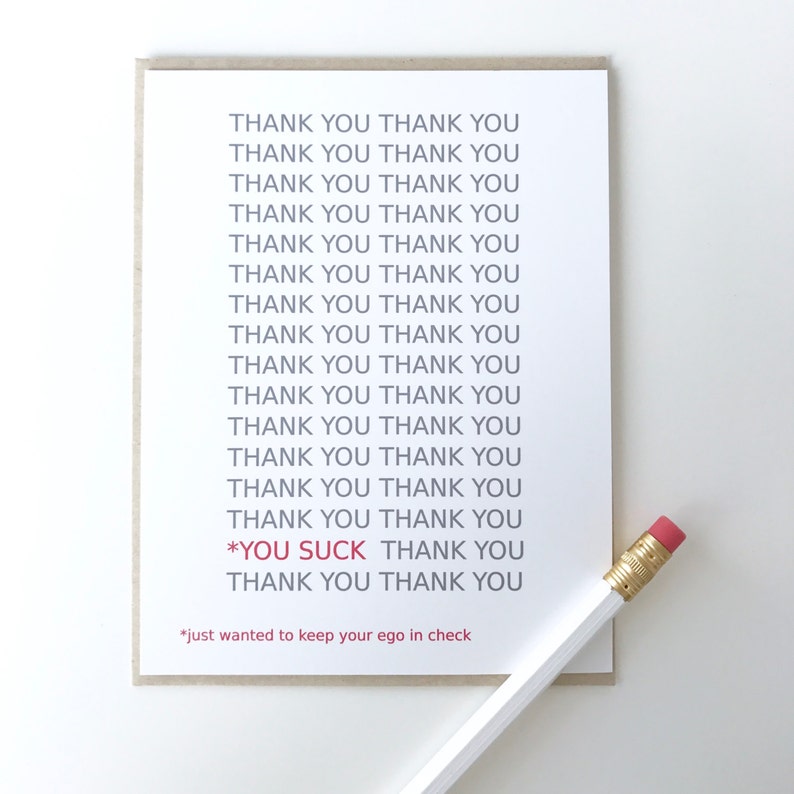 You Suck — Never let 'em know your next move. 
6 Funny Thank You Cards on Amazon
You won't find many good greeting cards on Amazon because it's exorbitantly cost prohibitive for sellers with <$10 items to sell on their platform. It's typically more trouble than it's worth for some of the best independent card manufacturers who make the funniest cards.
Nevertheless, sometimes you just need a thank you card quickly. Just be prepared to sacrifice either card quality or a slightly higher price point than you'd pay directly on most manufacturer's websites, since Amazon is adding on $3-$4 in fees for most of them.
You're Pretty F**king Awesome — Would you look at that? Even Amazon has profane thank you card options! And they're consistently present when searching for funny greeting cards.
Thank You x 4 — It's a bit basic, but we warned you there'd be sacrifices when ordering in a hurry from Amazon!
Nothing Butt Thanks (Dogs) — A direct copy from the dog & cat butt cards higher up in this post (which are from the original artist), but again — sometimes you just need it in your hands faster than many independent card manufacturers can get it to you. If that's the case, here's an option for you!
Unfortunately we couldn't find a similar cat-themed design on Amazon at the time of writing this article.
Tolerating My Behavior — For the person who accepts you at your best AND your worst. 
A Boring Value Pack — The value here is untouchable compared to the other cards in this article, and you certainly see that tradeoff reflected in the wit, art, and paper quality of these cards. But if you're seeking something inexpensive that isn't quite as premium (but will get the job done), Amazon has a decent option for you.
A Cuter (but Still Boring) Value Pack — You'll encounter the same tradeoffs as the first value pack option above, but the art style is a bit cuter in this one. The jokes aren't as good, and the cards are a bit cheesier vs. independent greeting card lines, but you get unbeatable value if that's a tradeoff you're willing to tolerate.
10 Funny Thank You Card Messages & Sayings to Write Inside the Card
Looking for funny messages to write inside of your new, perfect card? Here are a few funny things you can write in your thank you card:
You've surpassed my (admittedly low) expectations of you.
I didn't know you had it in you.
When everyone else gave up on me, you gave up on me too, but you lasted a few seconds longer than the rest... and that means something.
Well aren't you Mr./Mrs./Ms. Perfect?
Live long and multiply.
This doesn't change the fact that you're a dick/b**ch.
When the rest of the world lets me down, you let me down slightly softer.
Next time you feel like I don't invest in this relationship, remember that I spent over $5 on this card.
When my whole world is on fire, I can always count on you to pee on it.
You've restored the tiniest sliver of faith that I have in humanity.
And don't forget! When you need to say the exact opposite of "thank you", our anonymous "F**k you" card is perfect for the occasion!
Are You As Exhausted As We Are?
Please pretend you received a thank you card from us for reading this entire article. If you ordered a thank you card from us, you'll literally receive a thank you card from us. We promise not to write in it.
Either way, thanks for dropping by! We hope you found the perfect thank you card that you were searching for.
If you know of a funny "thank you" cards that deserve to be on this list but we missed it, please drop it in the comments below! If it makes the cut, we'll include it next time we update this article, which we try to do at least a couple of times per year. 
Love you!