Our goal is to serve you and your customers to the absolute best of our ability. We want to do business together for MANY years to come.
If we ever fall shy of this goal, please contact us as soon as possible so that we can take care of you, and set things right.
You can find everything that most retailers need to promote Explicit Contents products in their stores below. If you need anything else at all, please don't hesitate to email us at wholesale@explicitcontents.co, or call us at (214) 699-7250 so we can help.
High-Resolution Images for Retailers
Square Images

Square product photos with colorful backgrounds, ideal for social media posts, can be found here »

Square Images

Brand Assets

Explicit Contents' brand assets for websites, display materials, and more can be found here »

Brand Assets
Sometimes Life Can Be Shitty.
Ian & Regina started Explicit Contents as a way to fund prospective IVF treatment after experiencing multiple concurrent pregnancy losses throughout 2020 & 2021.
Although they still don't have any living children, they're grateful for the path that led them to serving their incredible clients & retail customers around the world through Explicit Contents.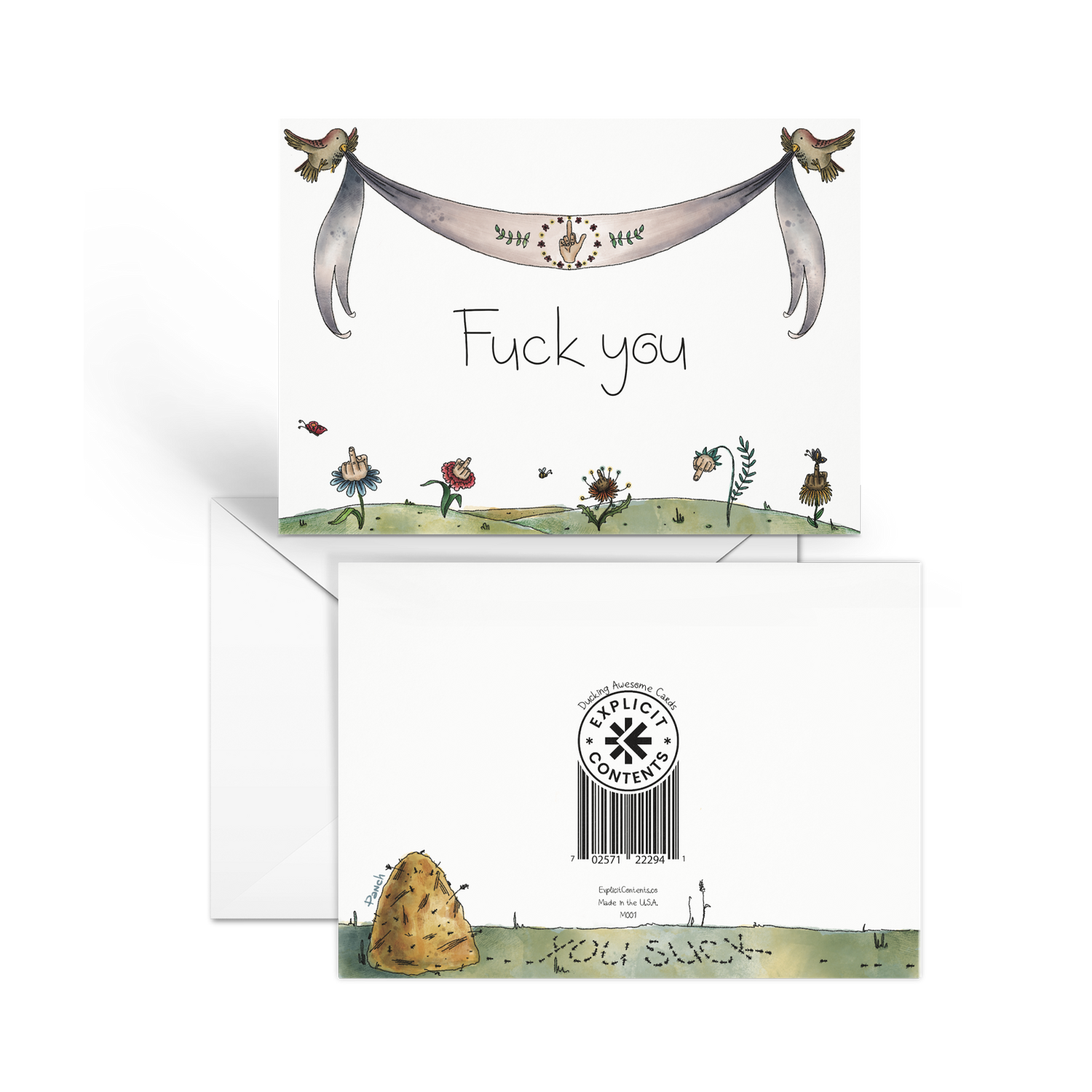 Maximizing Sales of Explicit Contents Cards
We recommend prominently displaying our Original Anonymous F**k You card wherever you feature Explicit Contents cards — it tends to attract customers who will enjoy these cards! 
We also recommend offering a discount for any retail customer who chooses to purchase 5 or more Explicit Contents cards (i.e. "5 for $25"), which in our experience has resulted in an average of over 3 cards per sale.
Finally, displaying multiple SKUs from our collection as closely together as possible — ideally on an organized display rack — goes a long way toward maximizing sales.
Guidance Regarding Displays
Unfortunately we don't offer any card racks or displays at this time. Once we expand our catalog to 48 SKUs, we plan to offer 48-card racks with wholesale orders of ~$800 or more.
In the meantime, here's a link to the manufacturer we purchased our displays for local shows from.
If you're seeking something more traditional, here's a rack that a client was kind enough to share with us (MUCH more economical than most card stands like it).
We'll update this section as more options become available, and whenever we start offering displays directly through Explicit Contents. Thank you!